The =SA= Free For All Challenge Starts at 12:00 GMT on Wednesday, every week. For a week, you may choose one opponent in the =SA= clan to play a 1 vs 1 in any map of your choosing. The winner will get to wear the =SA= patch in the forums until a new victor arises.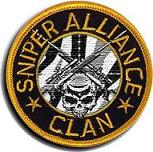 Rules:
1)You must have a screen shot for each victory
2)You may challenge any =SA= member at any time and as many times as you wish
3)You must meet up in our irc channel and declare the challenge whether spontanious or scheduled
4)You must post the results of the match on this thread
5)If your match is scheduled and your opponent doesn't show up, then you automatically get the win
Contest ends on every Tuesday at 12:00 GMT
*results will be posted the following day
Remember to post results here on this thread!
Happy Fragging and good luck!
*UPDATE- In case of a tie, ratios will be averaged and the highest will win!